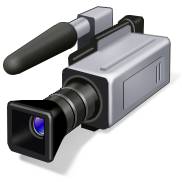 There's still a lot of 2011 to get through so why not take this opportunity to offer your consumers something new.
I'm sure by now you're beginning to dabble in the wonderful world of social media – tipping your toes in Facebook and Twitter. But perhaps now's the time to consider a new vein of marketing that will compliment your social media activities.
What am I talking about?
Video marketing.
I have already looked at why you should have video on your website, but this post is more concerned with the logistics behind video marketing.
A recent post on socialmediaexaminer.com called "5 Steps To Achieve Success With Video Marketing" talked about what you need to think about when moving into the video marketing arena.
Apart from how you're going to create your videos and how you're going to distribute them it's very important to think about who will feature in your videos.
Whoever you get to  take centre stage must be:
Personable
Dynamic
Interesting
If they are monotone and have the appearance of a 1970s Open University Maths lecturer, they aren't going to captivate and inspire your audience.
Once you've got your presenter(s) organised you then have to think about the content.
To get people to watch your videos you have to give them what they want, so ask them. Survey your colleagues and customers to find out what they want to learn about; what they will find useful. Once you have that sorted, how are you going to distribute your videos?
Leveraging the power of social media – YouTube, Twitter and Facebook, is a great way to gain exposure quickly.
To learn more about video marketing and how to go it well, pop over to Social Media Examiner by clicking the clink above and take your marketing strategy to a new level in 2011.
Sally Ormond is a freelance copywriter who creates compelling and persuasive copy for all online and off line marketing needs including video scripts.