Have you claimed your Google Local listing yet?
If not, you should.
One very good reason is that it's free. A second is that it could give you the opportunity of appearing in the Google 10 box (shown below) which will give your local Google exposure a shot in the arm.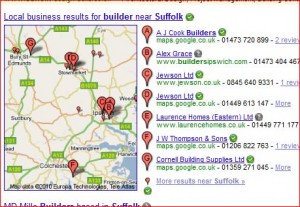 If you have claimed yours, well done you've taken the first step to boost your online visibility. But how are you using it?
Have you just claimed it and left it at that?
Your Google local listing is more than just a line of text. It should be viewed as a marketing tool for your business – a free marketing tool.
When compiling your listing you have the opportunity to add video, photos, receive customer reviews and list events.
Utilising all of these tools will help generate more business for you. Yes it will take time, something we all could do with more of, but it will be worth it. Plus you can manage the effectiveness of your listing through its analytics.
Try to think of it as a dynamic Yellow Pages. Unlike its paper counterpart, your Google listing is:
Versatile
Free
Interactive
Make the most of it and keep it updated with fresh content. Encourage customers to write a review; list new offers and events. Basically treat it as you would any other form of marketing. Just because it's free doesn't mean you should neglect it.