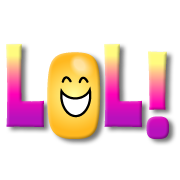 This is going to be short and sweet, but what do you reckon?
Should your copy be humorous?
Is there a place for it?
Well, before you can answer that you really need to think about your brand.
You've worked long and hard to create a particular image, so before you decide to use a touch of humour in your next marketing campaign, ask yourself the following questions:
1. Is it really funny?
Perfecting a humorous campaign takes time. But you do have to remember that not everyone finds the same stuff funny.
Just because you're humour makes you roll on the floor laughing, it doesn't necessarily mean it will have that effect on everyone.
2. Oops
Not only do you run the risk of creating something that, for many, is not funny, but you could also end up causing offence.
Poking fun at certain people could land you in an awful lot of hot water.
3. Kill not cure
As I mentioned earlier, you have taken a lot of time and energy getting your brand's image just right. If you've spent time and money creating something that's renowned for its quality, seriousness and soberness and then put out an 'amusing' marketing campaign, you could turn off a lot of people very quickly.
The moral is…
At the end of the day, it's a brave marketer that goes for the humour angle on a whim.
Make sure you look at your brand, your product and your audience before you start thinking comedy. After all, you want your customers to be laughing with you, not at you.
Sally Ormond – freelance copywriter