Although this is being written from a copywriter's point of view, what follows applies equally to all professions.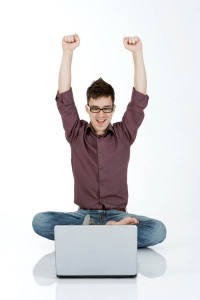 As my mum always used to say to me…
"Treat others as you would like to be treated."
And she wasn't wrong (not with that piece of advice anyway).
Rather than go into reams of text arguing my point, below are a few simple things you can do to add value to your relationships with your clients:
1. Listen
Simple and yet often over looked.
The only way you will fully understand the project is by being attentive, taking notes and asking loads of questions to clarify precisely what is required.
Never try to guess at what your client wants. If you don't understand or the brief is unclear, ask for clarification. They'd much rather you did that than submit work that is completely wrong.
2. Ask what they want
As a professional writer, never be tempted to take a brief and then write what you think they should have.
Ask what they are looking to achieve with the project and how they want to be perceived by their readers. If you can see an obvious disconnect, talk it through with them and suggest an alternative plan.
3. Promises, promises
Yes, you are going to want to promise your new client the earth. But promising unrealistic deadlines or outcomes will only lead to disappointment.
When agreeing a deadline, make sure it's achievable.
4. Update regularly
Writing is a solitary profession, but that doesn't mean you can cut yourself off completely.
Regular contact (email or phone) will keep your client in the loop so they know exactly what's happening and what stage you are at with the project.
There's nothing more frustrating than hiring someone to do a job for you who you then don't hear from for weeks.
5. Contactability
Ok, that's not actually a word, but it should be.
If your client can't get hold of you easily, you are going to seriously hack them off.
Granted, you're not going to be able to answer your phone every second of the day and you are allowed a few breaks, but if they leave a message, phone them back. If they send you an email, reply to them within an hour or two (if possible).
By giving them various contact options such as phone (landline and mobile), email and Skype, you are making yourself accessible.
6. It was me
Things do go wrong – yes, even to you.
No one is perfect, so if you make a mistake, own up to it. If you try to bluff your way out of a bad situation, you'll only make it worse.
Your client will think more of you if you say "Yes, I made a mistake" and then put it right.
7. Thank you
They may be two small words, but they are very powerful.
It doesn't take a lot to thank them for their business, so make sure you do.
Over to you
Do you have any little tricks you use to keep your clients happy?
Leave a comment below and let's see how many different ways we can come up with.