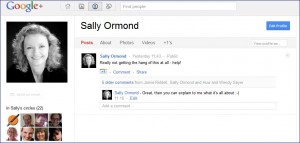 There's a new kid on the block in the social media world.
Google + is the mighty search engine's answer to Facebook, Twitter and just about every other social platform you care to mention.
And of course, with a new platform there's a new language to learn. There are:
Circles – which is the way you organise people you're connected to
Sparks – a bit like Google Reader as it brings in content automatically based on your interests
Hangouts – these are virtual rooms for video chats with people in your cirlces
Huddles – this is group messaging to people in your circle
Confused?
Me too – which is why I think you should take a look at these posts and videos put together by Chris Brogan:
Thanks Chris!