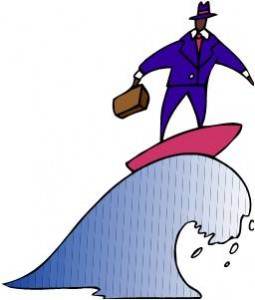 A new wave of marketing is taking over.
OK, to be honest it's not that new but it is changing the way you do business.
Cast your mind back to the way it used to be done. Marketing your products and services involved paying vast quantities of cash for newspaper or magazine articles – one little add competing with hundreds of similar ads.
You sent cold mail shots or put inserts in your local paper…which usually ended up in the bin or used as an impromptu coaster.
Finally you unleashed your secret weapon – the cold call. Every day you would sit with your list of phone numbers crossing them off one by one as you doggedly dialled them in the hope that one day someone would say 'yes' rather than '**!~~~@@#####'.
"But it works!" I hear you cry. Does it really?
Do you love having your evening interrupted by an unsolicited call trying to sell you double glazing? Do you enjoy your working day being interrupted by a persistent stationery salesman who just won't take no for an answer?
I didn't think so.
And is the one sale to the person who said yes (just because you happened to phone them at the exact moment they were considering buying an entire set of Encyclopaedias)really worth hacking off the other 299 people?
Forget ROI and think ROR
Social media marketing has opened up a wealth of new opportunities for businesses.
Now you have the opportunity to listen, engage and converse with a massive market place. You can tweet with people and offer advice when they are in need of your help. By helping them and giving them tips you'll build trust which could land you some serious sales.
So what's stopping you?
Many businesses are obsessed with ROI – and the one thing that's very difficult to measure through social media is your ROI. But you can't think of it that way. What's far more important to your business is the ROR – return on relationships.
Listening and talking to people is worth its weight in gold. Giving timely advice when people need it will show your company as one that cares, that wants to help, and that's open and approachable. In other words, your company is one that will be good to do business with.
As a freelance copywriter I use social media a lot. By listening to my followers on Twitter (and others through searches) I can step in and offer advice and guidance when they need it the most.
What have I gained from it?
New clients
Great friends
Help and advice when I've needed it most
More traffic to my website and blog
Service providers
A lot of fun
So what are you waiting for?
Get yourself online and join in the conversation. If you need some pointers follow me (@sallyormond) and I'll be happy to show you the ropes.