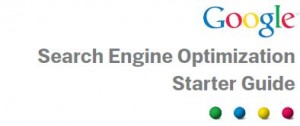 As a freelance copywriter about 95% of my marketing activties are carried out online. Therefore I have had to learn the intricacies of search engine optimisation fairly quickly to gain front page rankings to ensure my business (Briar Copywriting) is visible to potential clients.
But it has taken a number of years and a lot of reading and research to really get to grips with the techniques.
What would  you say if I told you there was a definitive guide to SEO available right now?
Yes please!
Well, there is. Google has just released its SEO Starter Guide (am updated version of their 2008 publication). Now before you get over excited let me add this disclaimer:
This guide will not give away secrets that will propel your website to the number one spot in the search results. But it will help you tweak your website to help you gain better visibility to the search engines as well as help you understand the mysteries of SEO.
So, if you'd like to get your hands on this valuable document click on the link below to download your free copy.