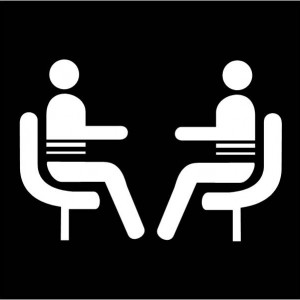 The use of case studies within your marketing strategy is a great way to boost your business profile whilst showing customers exactly what your product can do for them. Plus, because they use real life situations, your sales pitch gains extra credit.
One way of creating powerful case studies is to combine an interview with the person involved. Quotes and personal insight will add weight. But interviews aren't only for case studies, as a copywriter I use them extensively in projects such as newsletters, press releases, internal communications and news items.
The interview can generate a frame work from which the rest of the case study hangs and the quotes used substantiate claims whilst injecting your writing with life.
So how do you go about conducting an interview to make sure you get the most out of it? Well, that's just what I'm about to tell you.
Tips to conduct an effective interview
1. Do your research
This one should be pretty obvious.
As with any form of copywriting, you should always ensure you do your research before you start. Whether it's a website, brochures, other interviews, press or magazines, spending the time to read about your interviewee will prevent you from asking them the same old questions they always get asked. It will also help you find angles for your interview.
2. What's it for?
Asking a load of questions isn't going to generate a great interview. Before you begin think about why you are doing the interview. What is it that you want to get acorss? If you are interviewing a customer who is using one of your products, make sure you ask them about it. You'll want to know why they chose it, what has it done for them? Information that your reader is going to want to know.
Once you have a clear focus in mind, make sure you stick to it rather than getting side tracked.
3. How?
You must also decide how it is to be conducted. By far the most effective way is face to face but that isn't always practical (or cost effective). Usually I opt for a phone interview. I wouldn't recommend an email interview as it is really difficult to get great quotes. Most people will refine their answers until you get something quite impersonal. If you can chat with your subject, either face to face or over the phone, you are more likely to build up rapport and get some great quotes.
4. Schedule it
Whenever I have to arrange an interview I always like to email in the first instance. In the email I explain who I am (and make sure all my contact details are included), and why I want to do the interview. Rather than asking them for a convenient time and date – which can lead to a constant stream of emails bouncing backwards and forwards as you try to agree on a date – I tend to offer a couple of alternatives and ask them to choose one.
It's always wise to send them an email reminder a couple of days before and don't arrange back to back interviews. Firstly, you won't know how long each one will take. And, secondly, they are quite tiring.
5. What to ask?
Before you begin your interview (and after you've done your research), make a list of questions. Try to avoid closed questions as they won't get you anywhere and make sure you always have the reader in mind. Make sure the questions you ask are relevant to the purpose of the piece you are writing and ensure you ask for answers in 'language our readers can understand' especially if you are dealing with a complex subject.
The best way to generate great quotes is to ask your interviewee to tell you a story about the process, what their opinion or impression was of it. That type of question will get them to open up and talk more freely about the subject.
6. What do I do now?
I don't know about you, but I'm very bad at shorthand. Plus I find if I'm trying to  take notes during the interview, I don't concentrate fully on the answers I'm being given. Therefore I record my phone interviews (of course, with my subjects permission). I don't have any fancy tech, just a speaker phone and a digital recorder which then allows me to upload the file to my PC.
Once the interview is completed I transcribe it. You can get this done for you if you prefer, but I find doing it myself helps me to get a better feel for the material. Plus it's a great way to put a mental structure together for your case study and, as you type, you can highlight key information and great quotes.
So there you go. Interviews are invaluable but can be a bit scary if you've not done many before. But don't worry about it (your subject will also be nervous) – open your interview with a few light questions to put them (and you) at their ease.
Just remember – research before hand, make a list of relevant questions and engage with them. If you sound disinterested they'll close up. Listen, absorb and react and then you'll get great material to produce a killer case study.