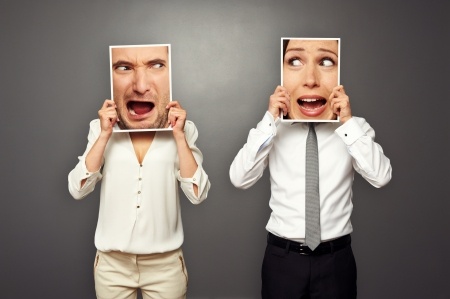 The tone of voice you use across your marketing will dictate how your customers view you.
Too stiff and formal and you'll come across aloof and unfriendly; too casual and street and you'll be seen as a bit flaky, a company that can't be taken seriously.
That's why it's important to work out who you are from the outset.
Factors that will affect your tone of voice
Before I get into that, there's something you must remember.
It doesn't matter who you are, what you do, or whom you do it for, never ever use jargon or industry speak in your writing.
There's a tendency for many businesses to create random sentences formulated from impressive sounding words because they want to appear aspirational or intelligent. Well, your readers aren't stupid. After reading your lofty prose they'll realise it has no meaning or substance and is just there for fluff because you couldn't think of anything else to say.
Right, back to those factors.
For starters you must know:
Who you are and what you stand for
Who your customers are
What you're selling
Why they would buy from you
The benefits you offer them
You can't develop a tone of voice without that information because if you don't know who you are as a company how will you know the personality you want to convey? If you don't know what you're selling or whom you're selling to you won't know the language you'll need to sell it. And if you don't know what your product is, or the benefits it offers, you'll just be wasting your time creating content that's meaningless.
Your tone of voice
If you're a B2B business selling professional services of some sort or another, your language will be more formal than if you sold bespoke surfboards.
For starters, your audiences will be poles apart, but that doesn't mean as a B2B business you have to be starchy and corporate just because you're not selling a cool product.
On the contrary, even though you're pitching to businesses, it's real people that will be doing the buying. Whenever real people are involved (and that would be in every sales scenario) their buying decision will be mainly emotionally driven.
That means your content must evoke an emotional response. If your product or service saves them time that means they get to spend more time with their friends and family. If it saves money it means their business will run leaner, generating more profit that ultimately, means more earning potential.
See what I mean?
Getting back to the actual language, in the surfboard scenario it would be perfectly reasonable to see the odd "dude" in the copy. Try that as a B2B and you'll be laughed at, but that doesn't mean your language has to be staid and boring.
Remember, a real person will read your writing. It doesn't matter how educated they are, it's important to keep your language simple, unambiguous and conversational.
Why conversational?
Because that drives engagement, has personality and is better received than formal writing.
Many people shy away from writing with personality (i.e. conversationally) because goes against everything they've ever learned. That's a real shame because it works.
Look at this post. I've written it as though you were sat in front of me and we were talking about tone of voice. By the way, that's a great tip for nailing conversational writing – imagine you're sat opposite a customer and talk to them about your product, writing as you do so. You'll be amazed at how engaging your writing becomes.
Summary
What's the moral of this blog post?
It doesn't matter who you are or whom you're trying to sell to, your writing must have personality if you want it to work
Use language that's appropriate to your market
Stay away from jargon and industry speak
Keep your vocabulary simple
Remember you are writing for a real person
Write conversationally to boost engagement
You can only achieve the right tone of voice if you know who you are, what you're selling, who your customers are the benefits your product or service offer
Author – Sally Ormond, Briar Copywriting Ltd