Woohoo – look at all those visitors you're getting to your blog.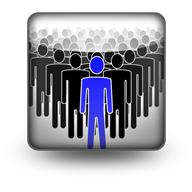 But are you getting any benefit from them?
Are they sharing?
Are they coming back?
Are they signing up for your RSS feed or newsletter?
No?
Ah, that's a problem.
If you're getting shed loads of traffic, but not doing anything with it, what's the point?
People are coming to your blog, but they'll only subscribe to it (or your newsletter) if you ask them to.
It's true.
So how do you do that?
Boosting your sign ups
Well the best place to start is by adding a passing comment along those lines in your blog posts. Add a footnote, or something in your author's bio that lets them know you offer a newsletter, what it usually contains and how often it's sent along with a call to action to get them to sign up.
Social media is also another great tool to boost your sign ups. Send a tweet out or Facebook update before your next issue is due out, urging people to sign up so they don't miss out. If you've hit a milestone (such as your 100th newsletter), shout about it.
A great way to boost your blog subscribers is to announce that you will be publishing a series of blog posts on a particular subject. Of course, they won't want to miss an instalment, so they'd better subscribe to your RSS feed today.
Of course, then there's the good old-fashioned call to action. Make sure these are liberally dotted about, especially at the end of a really hot blog post. You know the ones – they've been attracting loads of traffic for days or weeks, so make the most of that exposure by placing a sign up call to action at the end.
By following these simple steps you'll see your subscription numbers soar, boosting your exposure and reputation.
Author:
Sally Ormond is an international copywriter and founder of Briar Copywriting Ltd.