For years you've benefited from Google's analytics to track the activity on your website.
It's been a God send for internet marketers giving an invaluable insight into where your traffic comes from, which keyword brings in the most, what pages they visit, how long they stay etc.
This handy little tool has helped thousands of people improve the SEO and user experience of their websites.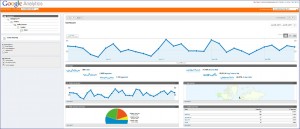 From your dashboard you can discover all sorts of handy statistics which can be used to continually enhance your website's performance and so boost your ROI.
That's great for measuring and assessing web traffic, but what about your social activities?
Getting more social
As more and more businesses are utilising social media to market their business and communicate with their customers, wouldn't it be great if there was a way of tracking this activity like you can the traffic to your website?
Well those clever people at Google have found a way.
Recently Google has become more social. It has introduced Google + and the Google +1 button and now offers Google Analytics Social Interaction Tracking.
With this new addition to the Google family you can track the social interactions on your website, blog or your Facebook fan page.
To learn more about how to set this up, take a look at this SocialMediaExaminer post – How to Track Tweets, Facebook Likes and More with Google Analytics. It provides a step by step guide on how to set up your analytics.
This process does involve playing with HTML in your web pages files so if you're not overly comfortable with code tweaking you may want to seek some help.
Over to you
Do you already use social media tracking? If so how useful do you find it?
Perhaps, after reading this, you're going to give it a go. If you do, bookmark this post and come back, leave a comment and let us know how you got on.