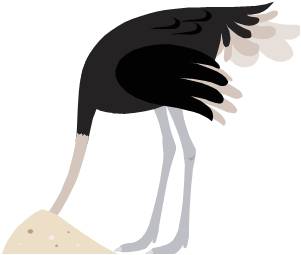 Are you one of the many businesses out there with your head firmly lodged in the sand?
Are you still refusing to acknowledge that organic SEO is the way to go for businesses marketing online?
Despite my best efforts to tell you why you should be investing in search engine optimisation and even confiding in your the 7 Must-knows About SEO Content it is frustrating when people say 'oh, but it wouldn't work for my business'.
Why wouldn't it?
As a copywriter it's worked wonders for me and many other businesses I know.
A lot of you turn to PPC (pay per click) campaigns through Google Adwords. There's nothing intrinsically wrong in that, but it isn't very cost effective and certainly not something you'd want to do for the long term.
If you're unsure the PPC or sponsored (paid) listings are shown below in the red box.
The other entries on the page are organic results – they've got there through utilising a good SEO strategy.
Most people opt for PPC because is offers fast results. Search Engine Optimisation (keywords, SEO copywriting, back links etc.) will take time to show results. How much time will depend on the competitiveness of your chosen keywords.
But organic results are best not only because of cost, but also because their click through rate. Many people think that if their website was features in the sponsored area at the top of a page of search results, they would get the most hits.
Wrong.
In fact, according to the latest data from SEO MOZ, it equates to just 10%, with 90% going to the organic results. In fact, they have shared their latest PowerPoint presentation  on Search Engine Optimisation on their blog post A Comprehensive Intro to SEO PowerPoint Slide Deck. This a great resource for anyone wanting to understand the murky world of SEO. It's full of great information not least how your position within the rankings will affect the number of hits you get – take a look at this: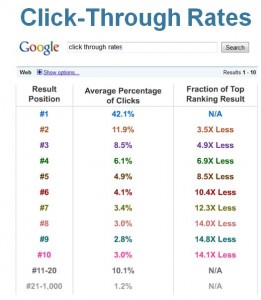 It really does pay to keep on at your SEO to gain the highest possible position.
So basically, organic SEO really is the most effective way to market your business online.