Whether you're a copywriter, web designer, SEO guru or business owner, understanding how to use Google Analytics effectively will help you achieve more traffic and conversions.
You can keep an eye on where your traffic is coming from, which keywords are people using to find you, how long they are staying on your site, which pages get the most traffic, which referral sites bring in the most click throughs?
But, when you log in and are faced with the dashboard: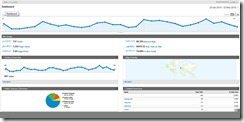 Do you really understand what it all means or how to get the best our of the data?
Probably not, which is why I was pleased to come across a recent blog post on seomoz.org
This post gives you 5 simple tips for Google Analytics that you should be using to get the most out of it. So, grab a coffee, sit back and have a read – it will change the way you use Google Analytics forever.