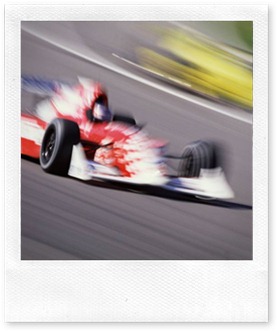 It's Mothers' Day so I'm sat here in front of my computer working while the kids and my husband are glued to the TV watching the Bahrain Grand Prix.
Everything has to stop in this house when it's F1 season – especially as Schumacher is making his big comeback this season (or at least he hopes!).
I'm not doubting that this year should see some amazing races. After all we have Hamilton and Button as team mates, Alonso looks strong and Vettel has got the first pole of the season.
So the big question is, has Schumacher still got what it takes to win races?
Moving on
You're probably wondering what all of this has to do with copywriting. Well, if Schumacher drives as he used to when the cars were different and the rules were different, he's not going to get very far.
Although he's been working as a consultant for Ferrari since his retirement, he's not actually been out there behind the wheel of an F1 car for sometime.
If he doesn't move with the times. he'll be left behind. And that is precisely what will happen with your copywriting if you just continue to churn out the usual stuff.
Freshen up or risk boredom
If you put out the same old sales message time and time again, your audience is going to get bored. Even though you may want to keep your colours and corporate image static, you need to alter your message and style.
Not every product or service you want to market is going to be successful if you market them in the same way. Think about your customers –what type of person are they? how old are they? what social standing do they have?
When you want to produce a new advert, sales letter, landing page etc., don't just regurgitate what you've done before. Go for something different – make people stop and think "Oh, that's different. I wander what that's about."
Giving a new take on your advertising keeps it fresh and arouses curiosity. If you can get your audience curious they'll want to know more.
Tips to keep your copywriting fresh
There are a few techniques you can use to try and give your copy a new twist. It's very easy to get stuck in a rut if you've been writing for the same product for a while.
Try one of these suggestions next time you are struggling to find an original angle:
Browse through the websites of your competitors and see what they're doing. This might help generate new and innovative ideas.
Study headlines to find a new, stronger angle.
Try to link your product to something topical – use a current news story to give a different slant to your marketing.
Talk to friends and family about the product – they can sometimes be a great source of inspiration.
When you're out and about be aware of what's around you, look at adverts, listen to people – you can pick up great ideas from casual conversations.
Study news papers and magazines – keep cuttings of interesting articles and headlines that could be useful.
The world around you is full of fresh and interesting information that can be used within your marketing. All you have to do is be more aware.
Oh, and by the way – despite Vettel's pole position, his car let him down, Alonso won. And Schumacher – 6th.