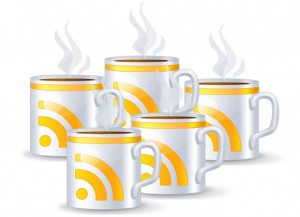 As a freelance copywriter, in my perfect world I would be able to generate an unlimited number of original ideas at the drop of a hat.
I would never be stumped by a project, and subject-matter for my blogs, articles, client web copy, emails and newsletters would flow freely without any effort on my part.
But sadly it's not a perfect world and, yes even I suffer from writers' block every now and then.  I have been known to be sat in front of my PC waiting for inspiration to strike. Only the number of empty coffee mugs littered across my desk betrays the length of time I've been wracking my brain trying to come up with a winning concept.
So how can you get over a barren spell?
The simple answer is a swipe file.
As I read newspapers, magazines, mail shots, websites and emails I make a note of anything that grabbed my attention.
If a particular layout was particularly effective or an image suitably eye-catching – anything that made me stop and read, it goes in my swipe file.
One word of warning—a swipe file is not there to be directly copied or plagiarised—a swipe file is there for inspiration.
After all if a headline grabbed your attention it will probably grab others'; if an email subject line made you open it others will too; if the layout of an advert made you stop and take notice others will also stop.
Over time you will build up a reference tool of hundreds of ideas to which you can add your spin.
Let others inspire you to create copy that sells.