As an online marketer, you're always looking for new ways to boost your customer engagement.
Have you considered embedding your Facebook posts on your website or blog?
Back in July, Facebook announced the ability to embed public posts onto your website using just a few lines of code.
How do you do that?
Posts from either your personal or business page can be embedded. All you have to do is click on the drop down arrow (top right of the post you want to embed) and you'll see the option to embed post:
Once clicked, you'll then get the code required. All you have to do is copy and paste it into your website or blog.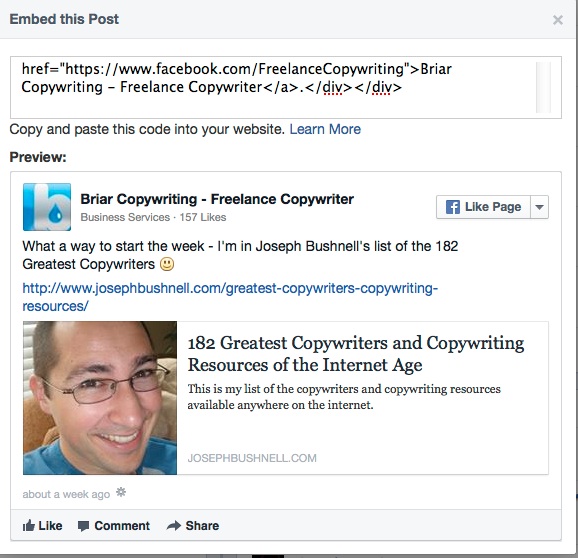 The only caveat is that you can't embed public posts from within groups. Of course, the privacy settings of the poster will also affect your ability to use the post.
So what benefit will embedded posts bring?
Well, they can be used as:
 Testimonials
Examples of Facebook usage if you blog about stuff like that
Interactive material especially if it's a statistic you want to share (referencing the original source with a link)
A tool through which to share video
A way of boosting engagement of a Facebook discussion
Not only that, but all embedded posts include a 'Like' button for the page, so you could also increase your fan base.
Over to you
Is this news to you, or are you already using it?
If so, what have been your experiences? Good or bad.
Leave a comment below
Author: Sally Ormond, Copywriter and MD at Briar Copywriting Ltd. Follow her on Twitter and Google+