No one is perfect (no, not even you) and that's why proofreading is an essential skill for any writer.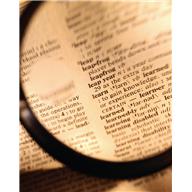 Copywriting, blogging, emails etc., must all be error free if you want to build your reputation. Yes, sometimes, despite your best efforts errors will slip through, but it's important to make sure you minimise this from happening.
To help you out, here are a few tips to improve your proofreading.
1. Not now!
However tempting it may be to proof your copy or blog post as soon as you've written it, don't.
Leave it for at least an hour (preferably 24) before checking it, that way it should be easier to read what you have actually written as opposed to what your brain thinks you've written.
2. Hard copy
Yes, I know we're supposed to be in a paperless age, but it's a proven fact that reading from a hard copy is much easier than from a screen, maximising your chances of finding all the errors.
3. Silence
If you get distracted you'll miss typos, so make sure you turn off your social media alerts, email and phone so you can concentrate on the job in hand.
Then read through slowly, marking the errors as you find them in red pen (just like school days). Make sure you mark where each correction is by adding an 'x' beside the relevant line in the margin.
4. Loud and clear
Read it out loud too. This will help spot any punctuation errors or typos you have missed and it will help you hone your conversational writing style.
5. Check details
If you have people or brand names in your document double check to make sure you've spelt them correctly. The same goes for any other details (facts and figures) and web links.
6. Last call
Once you've gone through all these steps and made the corrections to your document, give it one more read through before you publish it or, if it is a piece of copy, send it on to your client.
Granted, none of this is ground breaking stuff, but considering your reputation is at risk, it is essential.
Do you have any other tips you can add?
If so, leave a comment below.
Author:
Sally Ormond – Copywriter, MD at Briar Copywriting and blogger.