Do you use the hashtag in your social media marketing strategy?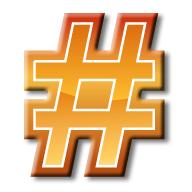 Do you even know what one is?
Well, according to Twitter, a hashtag is:
The # symbol, called a hashtag, is used to mark keywords or topics in a Tweet. It was created organically by Twitter users as a way to categorise messages.
But what happens when someone else uses the same hashtag as you, but for a completely different subject, or a competitor starts to use it?
Before you start getting carried away throwing random hashtags into the Twitter arena, you must first think about how to maximise its impact.
A recent post on Socialmediaexaminer runs through 4 tips to help you choose successful hashtags.
It covers everything from:
Choosing something unique
Choosing something that's easy to remember
Using the hashtag on multiple social media channels, to
Searching for the hashtag before you use it
Read more about this subject by heading to How to Use Hashtags in Your Social Media Marketing