Invisible writing?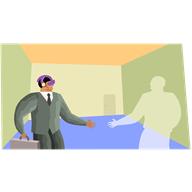 Let me explain.
The role of a copywriter is to write stonking copy that:
Grabs the attention of the reader
Persuades them that the product or service in question is what they've been looking for
Convinces them to buy
Compels them to get their wallet out and part with their hard earned cash
Plus, they have to do all that without being obvious about it.
Although copywriters write for a living, unlike the J K Rowlings, David Baldaccis and Scott Marianis of this world, their writing has to remain invisible – i.e. it shouldn't be the reason for someone to stop and read.
Copywriters have a tough life – they are great at what they do and excellent writers, but they'll never receive the recognition that our literary greats enjoy.
But the fact remains that the writing used to sell a product or service should do just that – sell. It shouldn't be hailed for its literary merits, or be seen as the best-written piece since…well, the last best-written piece ever. It should just do its job without fanfare.
 Writing with power
How do you achieve all of that?
The first stage is to picture your reader and write to them.
Yes, the actual audience you're writing for will be more than just one in number and most probably quite varied, but by keeping one typical reader in mind you'll be able to focus your writing on them and their needs.
The next stage is to develop an informal, conversational style of writing (in the second person). Write as though you're having a chat with the reader over a coffee.
As you start to write always keep in mind the structure of a story. We've all grown up listening to them and so are predisposed to taking them in and believing them.
Once you have done your research into the company, product/service and audience you're writing for, focus on the key benefits and shout about them. They are the lynchpin of your copy – they are the things that will convince the reader to buy what you're selling.
By keeping your language and sentence structure simple and jargon free, you'll be able to get your message across clearly. And following it up with a powerful call to action, you'll have the reader eating out of your hand and reaching for their wallet.
Keep the reader in focus
As a copywriter, everything you write is about someone else; it's never about you.
If you have a compelling urge to write great prose, my advice would be to write a novel. Keep your flamboyance for that and keep your copy clean, simple and every so quiet.