This is it.
The New Year is almost upon you, so it's time to take stock and stop kidding yourself.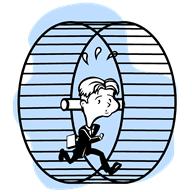 You've been working like a Trojan all year and your marketing efforts are starting to pay off. But because your activities have been pulling in more customers, your workload has increased making keeping up with the marketing really difficult.
Every week it's the same; day after day you're the one working late desperately trying to get all those blogs scheduled and articles written. You're the one eating lunch at your desk as you try to keep up with your Twitter feed and Facebook comments.
Why?
Because either
You are the business owner and don't trust anyone else to do it, or
You're the only one daft enough to have shown a bit of gumption about content marketing and social media and knew enough about it to give it a go
Well now's the time to stop – get off that eternal hamster wheel.
You have a perfectly good team around you, so it's about time they started pulling their weight too.
Marketing a business has to be a team effort, so don't be put off by their 'but I won't know what to say', or 'what shall I write about?' excuses – if you can do it, so can they.
Yes, it's time to delegate.
Blogging
The most common reason not to blog is not knowing what to write about.
Tosh – for a start, anyone in your company that deals with customers should have a shed load of stuff to write about. Just think about all those queries and questions that come their way – instant 'how to' guides.
What about all the advice they offer – perfect 'top tips' material?
How about issues customers have and the way you, as a company, resolve them – ideal case study material.
See, there's no excuse – everyone in your team should be contributing at least one article a week.
Social media
Before you delegate your social media activities, make sure you have a social media policy in place so everyone knows how they should react to comments, what they can and can't say etc.
Then you just need someone to monitor your Twitter and Facebook accounts so that all comments are responded to in a timely manner.
But make sure they understand the importance of building relationships and that they engage with your followers and fans; providing a stream of interesting and relevant tweets and status updates will boost your company's visibility.
By the way, if you think by delegating all this stuff you can take the year off, sorry, it doesn't work like that.
All this regular activity is going to be driving more business your way, leaving you to do what you do best – sell.
Remember, no one is Superman or Wonder Woman – by spreading the workload you'll achieve your goals much faster, you'll be less grey, far calmer and will also get to enjoy lunch away from you desk.
Sally Ormond – overworked professional copywriter, blogger and social media addict