Content rules the Internet and considering most of that is in the form of words, that's a lot of reading.
You all know that reading from a screen is more difficult than reading from books or magazines. That's not to say that your intellect suddenly falls several points when faced with a computer screen, but rather reading from a back-lit screen can be rather tiring on your eyes, which leads to less concentration.
That's why its important to use sub headings – a feature used by every professional copywriter you'll come across – because they make it easier for readers to read.
The best way to show you the effect sub headings have is through an actual illustration. Below is a sample of copy taken from by About Us page – first of all without any sub headings:
As you can see, even with the paragraphs intact the piece doesn't really make you want to read. The text looks too dense and there is no direction as to what information the page contains.
Now let's look at it again with the sub headings in place: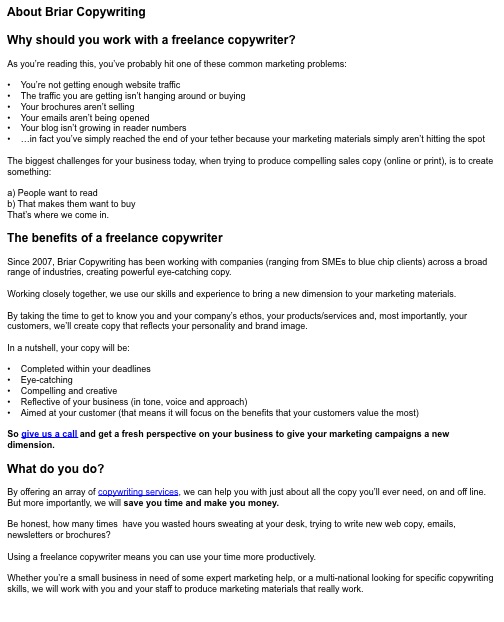 This time there is much more structure to the page. The sub headings act as signposts telling the reader what information the page contains making it easier for them to navigate to the section they want to read.
The aesthetics of sub headings
Aesthetically, the page looks more inviting with sub headings: a solid wall of text gives the impression that the subject matter is going to be difficult to read and boring, so it won't encourage people to give up their valuable time to read it.
With sub headings the reader can break the page down:
The sub headings act as rest points; the reader can break of at any time and not lose their place.
They can glance down the page and pick out the information they need
They give the impression of an 'easy read', which subconsciously suggests the information will be easy to grasp
So you see, just the simple inclusion of sub headings in your writing can boosts its readability.
Next time you're writing website copy, brochures, blogs or articles, pay special attention to how you lay the information out. Use sub headings and short paragraphs to make it easy to follow and understand, that way you'll boost your engagement with your readers.