Let's face it dealing with phone calls takes time. Unless you have multiple phone lines, you can only answer one customer at a time leaving the others hanging on in frustration.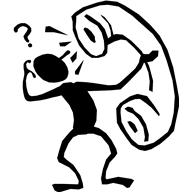 That's also why so many customers like to deal in email rather than waiting in phone queues. That's a bonus for you because you can sit back and deal with each email as it comes in.
But how you deal with them will say a lot about your company and your customer service.
So, how can you make a good impression?
1. Make sure you have an email address shown on your website
More and more companies just have contact forms on their websites. There's nothing wrong with that so long as you make sure they are working and that they are monitored.
I've lost count of how many companies I've tried to contact this way only to never hear anything.
If you also list an email address, it offers reassurance to the reader that you're a real company that wants to hear from its customers (the same goes for the inclusion of a telephone number and postal address).
2. Answer promptly
Even though they sent an email, your customer will still want a quick response. At the very least this should be the same working day, but preferably within the hour.
If you know it's going to take a while to look into their query, at least send an email to reassure them that their email has been received and that you are looking into the matter and when you will get back to them. If you keep them updated in this way they at least know their query is important and is being looked into.
3. Name
Make sure you use their name in your response. There's nothing worse than sending a company an email that included your name (in your signature and email address) only to receive a reply that started 'Dear Sir/Madam'.
4. Thank you
It might sound obvious, but start off your response by thanking them for their email. Even if they were complaining about something it's important to show them that their correspondence is important and valued.
5. Answer everything
Many emails will ask several questions, so make sure you answer everything. There is nothing more frustrating than receiving a reply to your query only then having to send another email because part of your initial question wasn't answered.
Before you hit send, re-read your response to:
a)    Make sure answered everything
b)    Make sure there are no spelling or grammatical errors
6. Get straight to the point
The recipient of your response doesn't want a great long essay turning up in their in box, so make sure you get straight to the point and answer their query.
Oh, and always end with something along the lines of 'If we can be of further assistance, please get in touch'.
Although each of these points appears to be common sense, you'd be amazed at how many are ignored.
Over to you
Do you have any other tips you can add about using email as an effective customer service tool? If so, leave a comment below.
Sally Ormond – Copywriter