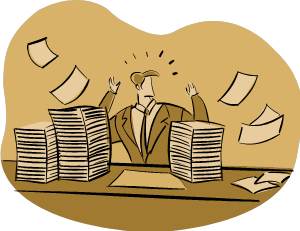 You're over worked and under paid – aren't we all?
Just as you thought you were about to see the bottom of your in-tray for the first time in months, your boss dumps another load of work on you. As he walks away he mutters…
'Oh, by the way, we need the annual report writing – see to it will you?'
ARGH!!
Not only do you NOT have time to write it, you don't have the necessary skills to write it so you call in the cavalry.
After a quick Google search, you find a copywriter who is:
a) Available
b) More than capable of doing the job
c) Within your budget
So what now?
Too many cooks…
With an annual report (or with any other copywriting project as it happens) there is probably going to be more than one person involved within your company. There may even be cross-departmental involvement.
If that is the case, before you provide your copywriter with a full brief, make sure you know exactly what you want them to do.
If you bring them on board while you're still thrashing out details the brief will get confused, as will your copywriter.
One point of contact
Once you've started working with your writer, make sure they have one point of contact (i.e. you). if they end up on a cc'd email list with ideas flying backwards and forwards they won't know what needs to be done, what information is relevant to them or who they are supposed to be reporting to.
A single contact name makes life a whole lot easier.
If one of the departments involved suddenly has a brainwave or realises something was missing from the original brief, get them to tell you and then you can relay the information to your copywriter.
Pick up the phone
Even though email is a convenient way to communicate, if you are dealing with complex projects, pick up the phone – it really is better to talk.
You can easily get your ideas or points across, your copywriter can react immediately with any questions they may have and it will speed the whole process up.
First /initial/rough drafts
A first/initial/rough draft, whatever you want to call it, is exactly that.
It may not be perfect, there may be the odd typo, there may be omissions or inaccuracies, but that's why it is called the first/initial/rough draft, so try to resist the urge to shout 'you made a typo' from the roof tops just because you can.
The idea of it is to provide you with a starting point from which to refine and shape the text.
The final draft will be perfect, flawless and divine – if it's not, then by all means rant and rave because any errors should have been picked up and dealt with.
Is anyone there?
During the project, your copywriter will probably email you questions and draft updates.
When you get these, it's a nice idea to drop them a quick response either:
Telling them information they need
Saying you'll find out and come back to them
Letting them know when they can expect to receive your revisions
That way, everyone knows where they stand and what's happening.
At the end of the day, clear and effective communication is the key to your project running smoothly.