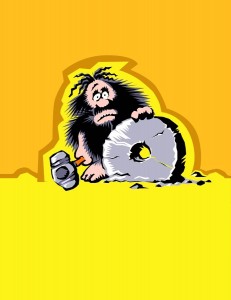 Have you noticed how different ideas spring up from time to time?
It's the same in the marketing world. Every now and then someone comes up with, what appears to be, a brilliant idea. Every one jumps on the bandwagon, only to discover after a few months or a year that it doesn't actually work at all.
It's the same in copywriting. Take SEO copywriting as an example. At the outset, marketers would go to great pains to tell you that your copy had to contain a certain percentage of your keywords. The fact that this stipulation usually resulted in complete gibberish, didn't seem to matter.
"It's what the search engines want"
And like good little marketers we all followed suit and merrily stuffed our copy with keywords. Finally, people have seen sense and realised that good SEO copy is written for the reader – it should be:
Interesting
Relevant
Of simple construction
Contain loads of subheadings and bulleted lists
…oh, and the odd keyword.
Basically, if you want your copy to work (regardless of its use), just follow the copywriting 'rules' that have stood the test of time.
Copywriting hints set in stone
1. Sell
You are writing copy for one reason, and one reason only – to sell.
Simply describing a product or service won't convince anyone to buy it. So forget your flowery, adjective-laden text, make every word count and every word sell.
2. Formula
Don't try to reinvent the wheel. Always use a tried and tested copywriting formula you know works:
Understand your objective
Clarify the main benefits
Show how those benefits are delivered and how they will have a positive effect on your customer
Back up your claims with evidence (testimonials, test results etc.)
Sprinkle with sugar – make a time limited offer or give something free that will be of value to your customer
Tell them to buy in your call to action
3. Command
If you write waffle that's very wishy-washy, no one's going to take you, or your product, seriously. Be forthright in your language.
Don't ask them to…
"Call us, you know, if you have time, we don't want to put you out."
Tell them…
"Call now and make sure you don't miss out on the offer of a lifetime."
4. Clear benefits
It is the benefits of your product that will sell it. By benefits, I mean what it will do for your customer. It could save them money, streamline their business processes, or make them more attractive…
Try and stick to the primary benefit in your copy – the one that will really make a difference to them – make sure you tell them enough to make them say 'yes' and use it in your headline.
5. Offer
Whatever your offer is, make sure it's a strong one that your customers will want.
6. Guarantee
Everyone loves peace of mind, so offering a guarantee will encourage your reader to trust you enough to buy from you.
7. Respond now!
Your strong call to action (mentioned in number 3) will tell your reader what you want them to do, but you have to give them a reason.
Making a limited offer will create a sense of urgency and force them to make a buying decision. It might be that the price is only held for 30 days, there is a limited number of your product available or they'll receive a free gift if bought before a certain date.
8. Make it easy
If you want your reader to order from you, don't make them jump through hoops.
You want to create as simple a process as possible, otherwise they won't bother.
9. Free
Yes, using the word 'free' does work. People love to get something for nothing; it's definitely a hot word worth using.
Over to you
These copywriting hints have served marketers well over the years, but the list is by no means exhaustive.
Can you add to it? If so, leave a comment below and let's see how many tips we can come up with.