There is one formula that is ingrained in the minds of many internet marketers and internet businesses out there: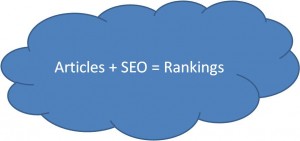 The regular addition of fresh content will undoubtedly help your search engine optimisation strategy, generate more traffic and therefore potential business.
But just adding content for the sake of it could do more harm than good.
If you write or commission a copywriter to create a vast number of SEO rich articles for your website are you really adding value?
"But I'm driving traffic!" I hear you cry.
You many well be but what's in it for those people when they find your article?
What value will it add?
What's your call to action?
Is it really all that relevant?
If your content doesn't offer the reader anything or ask anything of them, what's the point?
Adding fresh content to your website is a good thing.
Making sure it's search engine optimised is great.
But you also have to ensure it's relevant, adds value and asks something of your reader. If you don't they'll skim read and head off to another website because you haven't used that content to draw them into your website, get interested about your product or buy.
So the moral of this post is – add content, make it relevant and make sure there's a call to action/lead into your main website.