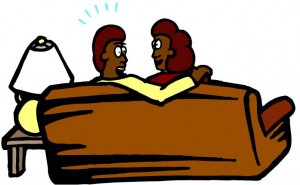 Many businesses think their website copy has to be stiff and corporate.
They want to come across as professional so they must use language that impresses.
As they write their copy they thumb through the pages of their much loved thesaurus to find the most impressive words possible.
Oh boy.
How many times have I seen that? And you know what? They are the websites that under perform because no one wants to read them because they are boring. The language is stale – it's not interesting, it's not inspiring and it certainly won't make the reader think "wow, I really want to do business with these people."
Be a friend
The best way to get your readers on your side is by chatting with them.
Conversational copywriting will make your website more accessible. It gives your company a distinctive voice – something your readers can relate to.
It's like slipping on your favourite slippers. They'll stay longer and they'll read more because you are talking to them and not at them.
So how can you achieve chatty copy?
Find out who your target market are and use  their vocabulary
Use short, clear sentences to get your message across
Don't use big words – throw away the thesaurus and use language everyone understands
Read your copy out loud to check it makes sense, has rhythm and doesn't contain any errors
Use real language, not a literary version of it
Basically write as you would talk – go over the conversation you would have with the customer if you were stood in front of them and write it down.