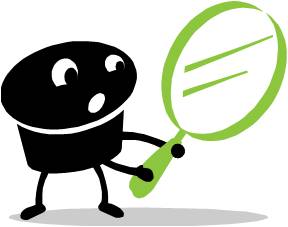 Keyword research (as opposed to keyword guessing) is vital if you want your search engine optimisation activities to bear fruit.
The words or phrases you decide to target will have a big effect on your website and its contents which is why it should be done before you begin the design process.
How can a few keywords affect your site?
Well quite easily. After all it's not until you know what you'll be targeting that you can:
Create your on page text (SEO copywriting)
Decide on your link building anchor text
Work out your internet linking structure
Decide on your site navigation
Produce your page titles (title tags)
Decide on your URLs
Write your META tags
So as you can see it's quite important that your keyword research comes first.
How to decide on your keywords
That's all well and good but how do you begin the process of deciding on which words and phrases to target?
Here are 3 steps you can take to ensure you get the best possible match between your keywords and your target audience.
1. Be open to new ideas
Don't go into the research blinkered to the ideas of others. You must remember that you are trying to find the words that other people search for to find your products and services, not necessarily the terms you would use.
The main thing is that the words you decide on must be relevant to your product or service. There's no point in using a keyword that generates lots of traffic if it's not pertinent to what you do. You'll just end up with a lot of frustrated people.
2. Create word groups
Your starting point will be to generate a list of words that relate to your product/service.
Then, expand that list to incorporate names used in your industry for what you do. Expand this again with words used within the media for your product/service. Then, if you work in a specific locality, add in relevant geographical modifiers.
Then it's time to use keyword research tools such as Google's to further refine and expand your list.
3. Check competition and relevancy
The final step is to work out which are the best terms to go for.
Although you want to target terms that generate a lot of search traffic, you don't want to pick something so competitive you won't stand a chance of ranking for it.
This table below will help you determine which the best terms to try are: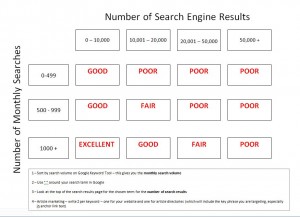 That's why keyword research is so important. Make sure it's the first think you do before starting your web design process.