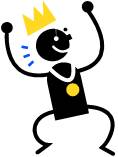 Not everyone finds participating in social media easy.
The thought of communicating to an unknown crowd can be quite daunting; it can seem completely unnatural mainly because of the way we behaved as children.
Cast your mind back to your school days. At that time (for most of us) the thought of standing out and being different was abhorrent.
The last thing we wanted was to be singled out. We wanted to conform, be mainstream, blend into the crowd—no body wanted to be known as the 'odd kid'.
But with social media being 'odd' helps.
Stand up and be noticed in social media
When using social media it is good to be different, to stand out from the crowd with a personality that shouts "Hey! Look at me".
Social media is about being noticed, being something different from the norm – if you act 'low key' on line you'll fade into the background like a beige cardigan. But if you become a character with real personality, people will stop and take notice of you.
But of course there is a big difference between being a personality and being completely fake. Remember there is a good chance that you may meet some of your online network at some point. If and when that happens they will expect to meet the person they know online. You're going to look pretty stupid if you've been faking it.
As far as they're concerned, if you lie about who you are why should they trust you in business?—so be careful.
Companies on social media
It's all too common for businesses, when they dip their toe in the social media waters, to get it all wrong.
They believe that they must portray a very corporate image; everything must be very starched and business-like.
Why?
You are trying to convince people you are a great company to deal with so don't be afraid to show a bit of personality.
Show you can be fun, chatty and approachable and people will engage with you, like you and do business with you.
At the end of the day, social media is a platform to show people who you are and what you do. By becoming a personality you bring a human voice to your business and that's something people want. They don't want to deal with a faceless corporation; they want to deal with people.
Sally Ormond – freelance copywriter