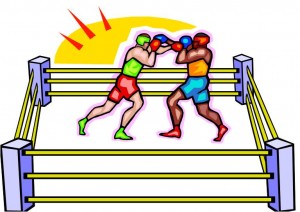 In the red corner is your reader, in the blue corner are the search engine spiders – so who will win?
Well, sadly, when companies create their own website copy the spiders tend to win.
Every business owner wants their website on the front page of Google for their identified search terms. But the belief is still that this can only be achieved if you stuff as many of your keywords as possible into your copy.
Will this get you good rankings?
Possibly.
Will it get you loads of traffic?
Probably.
Will it get you loads of sales?
Most probably not.
How to get great rankings, more traffic and a boost in sales
Those three things are at the top of every businesses wish list.
But to achieve them you need a great website that is SEO friendly, loads of backlinks, and some great SEO copywriting. For the purposes of this post I will concentrate on SEO copywriting.
But before we even consider the SEO aspects of great copywriting, it's time to go back to basics.
Q: Who will visit your website, read your content and use that as a basis to decide to get in touch and buy your product? Your readers or the search engine spiders?
A: Your readers.
So if you know that, why isn't the content of your website written for your reader? When they land on your website the only question  they want answered is "what are you going to do for me?" Therefore the type of information they won't want to read about is:
When your company was established
How many staff you have
What your premises are like
Anything else that shouts about you
Your website pages have to be all about your reader and what you're going to do for them.
Take a look at your website now. How many 'we's are there within your copy? If there is more than 1 there are too many. If you want your copy to resonate with your reader you must talk to them, and that means using 'you' and 'your'. This writing style isn't something that comes naturally but it is the only way to engage with your reader and drawn them in.
But if you stuff your copy with keywords your reader won't be able make sense of it. It will come across as clumsy and unprofessional – not someone they would want to do business with.
Take a look at this example:
Can you believe it? This was taken from an actual SEO Copywriter's website! They have squeezed the term 'search engine optimisation' into that small piece of copy 17 times! The result is unreadable. Would you want to do business with someone who writes like that?
Absolutely not.
Yes your keywords have to be present but not at the expense of clarity. The location of your keywords is far more important as any SEO Copywriter worth their weight in gold will tell you. They have spent many hours studying SEO and understand what it takes to write great copy that will 'speak' to your reader whilst providing enough tantalising keywords to keep the search engine spiders happy. So don't take chances with the effectiveness of your website. If you're serious about internet marketing and getting the most out of your website, invest in a good SEO Copywriter who really knows what they are talking about.