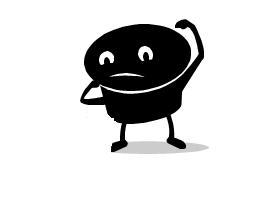 Today's buyer has more choice than ever. The market place is saturated with companies vying for their attention.
So, if people aren't buying from you it is down to one reason alone:
You haven't given them sufficient reason to choose you above your competitors.
That might leave you scratching your head – you have a website, you have brochures, you've dabbled in email marketing, so what else do you have to do?
Just because you have an internet presence doesn't automatically mean people will buy from you. You have to give browsers a golden reason why they should buy from you.
This is George. He runs a small business that makes curtains to order for his clients. He's invested in a website but didn't want to pay for a copywriter to produce the content (he can
write as well as anyone – can't he?) so he wrote it. It tells people all about his company:
We've been making curtains for 10 years
We have an extensive range of fabrics
We can make them to any size
We can make blinds, curtains, Austrian blinds etc.
So, where's he gone wrong?
Let's look at it from a customers point of view:
We've been making curtains for 10 years

– so what?

We have an extensive range of fabrics

– define extensive.

We can make them to any size

– can't everyone?

We can make blinds, curtains, Austrian blinds etc

. – so do all the other companies.
He hasn't told them anything that makes him stand out from the crowd.
The browsing public have a short attention span and even shorter memories. If you want them to pick you as their chosen supplier, you must tell them what makes you stand out immediately.
How to make your mark
To find out what makes your business unique, write down every reason you can think of, why someone should buy from you. Ask all your staff members for their input and create as comprehensive a list as possible.
Next, go back over that list and cross off anything that your competitors do.
Once you have your list of things that are unique about your brand you then have to work out which ones are likely to be most important to your customers and, more importantly, which they are most likely to understand. Remember – you must think from your customers' shoes here; your opinions don't count.
By now, you should have some good information you can use on your Home Page, in your brochures and in your email marketing.
Make your unique value proposition strong, clear and easy to understand. With your message centred on your customer rather than on you, you should avoid the 'so what?' response.
Sally Ormond – freelance copywriter