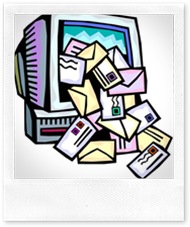 This is always a tough question to answer when putting  together a sales letter.
Every product is different so the answer will depend on what you are selling. But what if you are trying to sell an information product – something along the lines of an eBook or report, for example. How much information do you 'give away' about it?
What can I do for you today?
It's a bit like when you go into the hairdressers – do you opt for the full colour or just highlights?
Well, if you think about it – you are offering an information product. It will be designed to help your reader in some way. It may be designed to make them money, save them money, change their lifestyle, improve their careers – the possibilities are endless.
Because it will 'change their lives' you don't want to tell all in your sales letter. If you did, what would be the point in buying the product?
Ben Settle makes an interesting analogy in his recent post 'Hollywood's Billion Dollar Copywriting Secret' . When a new film is due for release, it is preceded by a trailer. This is designed to whet your appetite. As such, it involves a combination of high action snippets from the film set to enlivening music with a compelling and dramatic voice over.
Basically what they are doing, is giving you the edited highlights of the whole film. It will be the most dramatic sections that you see and when strung together, it will produce a powerful image.
Therefore when you're putting your sales letter together you need to look at the most powerful benefits your product has – what is the greatest impact it will have on your reader? What is the problem they desperately need a solution to and that your product will provide.
It is these highlights you need to extract and place in your sales letter. You have to give them just enough to make them want more.
Whatever you're selling, always concentrate on the main benefits of your product. Your reader is going to want to know what your product will mean to them. Give them what they're looking for and they'll buy.
Sally Ormond – freelance copywriter