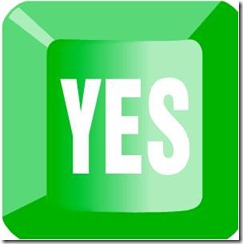 There you go, probably the shortest blog post in the history of blogging.
But, I guess you're going to want more than just a resounding YES; you're going to want evidence.
If you're sitting comfortably, I'll begin
There have been various debates about whether SEO copywriting is really so different to your normal, run of the mill website copy. Some people say there is no difference, whereas others say there is a vast difference between the two.
From my point of view, yes, search engine optimisation copywriting is very different from normal website copy.
For a start you are writing for two audiences simultaneously – your reader and the search engines. But the trick is to write your copy in such a way that your reader doesn't pick up on your SEO.
Case Study: Landspeed
I was recently asked to write SEO copy for Landspeed's new website. Landspeed is a car MOT and servicing centre based in Ipswich. They wanted copy that was easy to read, interesting and written to help their on screen SEO.
The copy had to target various keywords such as Ipswich MOT, Car servicing Ipswich, MOT Ipswich, Ipswich car servicing.
Less than a week after the site going live, it was on the first page of Google for all these terms (as at 1/4/10) – want proof?
Ipswich MOT                                  Car Servicing Ipswich
Ipswich Car Repair Shop           MOT Ipswich
Ipswich Car Servicing
And, that was achieved without doing any link building.
Take a look at the site…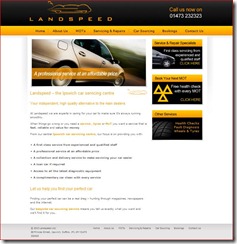 …unlike the sample I showed you in my last blog post about how not to do SEO, the copy isn't crammed full of keywords. It is readable, simple copy that tells the reader exactly what the company does. The keywords have been used where they are most effective – headings, sub headings and as internal hypertext links.
When writing SEO web copy another key aspect that your copywriter should know about, is the value of the title tags (or page titles). Getting your keywords in here (but in a natural way, not stuffed) will help your rankings no end.
Now I'm not saying that every website I've ever written ends up on the front page of Google within days. SEO can take time. It all depends on how competitive the terms are that you're trying to rank for. Something as generic as freelance copywriter will take longer than a more localised term such as Suffolk freelance copywriter.
That's not the end
But even when you do achieve front page rankings through your copywriting, it doesn't stop there. You have to consolidate that position by building quality, inbound links to your site through:
article marketing
blogging
inclusion to relevant directories
There's a lot of competition out there. When you reach the top of the Google pile, someone will be waiting to knock you off. SEO is a constant process and one you can't take your eye off for a second.