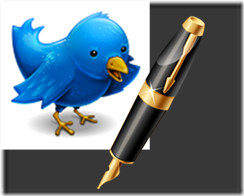 How can a little social media tool like Twitter possibly improve your writing?
Very easily.
As this great post on Copyblogger by Jennifer Blanchard shows – How Twitter Makes You a Better Writer.
As the Twitter literate out there will know, Twitter messages are limited to 140 characters. And that does mean characters – so every space, punctuation mark and letter or number accounts for one character.
Therefore your writing has to be tighter than, well, a tight thing. There's no room for adjectives or excessive prose – you have to wrack your brain to find the most succinct way of getting your message across.
Just like when you write sales copy. A copywriter has to keep their writing pithy and to the point. As soon as airy-fairy language creeps in, your reader will walk away.
It takes time to master this, but once you have you'll discover your Twitter writing will help your copywriting. Your copy will become tighter, punchier and more compelling. You'll start to take note of every word you use and you'll be questioning them to ensure you've used the most concise and powerful combination to get your message across.
So, put your reserve aside and if you're not already Tweeting, get started.
If the thought of it still makes you shudder with anxiety, help is at hand. One of the great Twitter Gurus, Mark Shaw (@markshaw), has put together an excellent eBook to help get you started. He's kindly given me permission to offer it here to anyone who wants it.
So if you want a copy, drop me an email and I'll send it to you. You can also follow me @sallyormond – why send me your most creative 140 character tweets?
Sally Ormond – freelance copywriter
sally@briarcopywriting.com