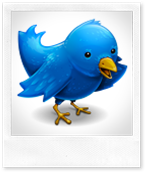 Do you use Twitter?
If so, how do you use it?
For a lot of people, Twitter is all about getting as many followers as possible. They don't care who they are, just so long as their Twitter page shows an astronomically large number of follows.
But for others (me included), Twitter is more about quality rather than quantity. You see, Twitter is a relationship tool. It's not about who can get the most followers. It's about who's out there in the Twitterverse that can add value to your life/business and visa versa.
It can be a fabulous tool for gathering information, finding new partners for business projects, identifying potential new clients. But above all, it allows you to build relationships and trust by giving and sharing great information.
…and the copywriting?
Yeah, OK, I was just getting to that bit.
Let's take website copywriting as an example. When creating copy for a website, you have to take the reader into consideration. After all you are trying to attract them to the site so you have to write benefits led copy that they're going to find interesting.
You will utilise SEO skills to ensure you attract targeted traffic to the site.
"Who cares – I just want loads of traffic!"
Sure, everyone wants loads of traffic to their website, but would you rather have 100 visitors a day who don't hang around or 10 highly targeted visitors who not only visit your site, they also buy.
Just think about that. Every day your site would get 10 buying customers – 70 in a week – 3640 per year.
Of course, to get this type of targeted traffic you'll have to do your research carefully. Use free keyword tools like Google's to find your target audience – oh, and start with local key phrases rather than generic ones as the local ones are easier to rank for.
Get your key phrases into your page titles and headings and then write your web copy with them in mind. Don't worry about density – that's no longer relevant and you'll find writing naturally will automatically bring in the right saturation of key terms.
So you see, Twitter is a lot like copywriting. Quantity isn't that important – it's the quality that really counts.