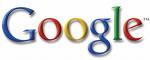 You may recall a post on this blog a little while ago called "Proofreading – 3 Simple Steps to Perfection" in which I mentioned a letter I'd received from Google. It was offering £50 of free advertising with Google AdWords but they'd made a blunder:
1. You control where you ad is showing – by country, region or town
Argh! How could a company like Google make such a mistake?
Well, this morning I received another letter from them with the same offer. Guess what?
I opened the envelope with baited breath…had they heeded my words?…Had the letter been properly proofread this time?…
The answer is…YES!
The entire letter is blunder free. Well done Google!!!!!