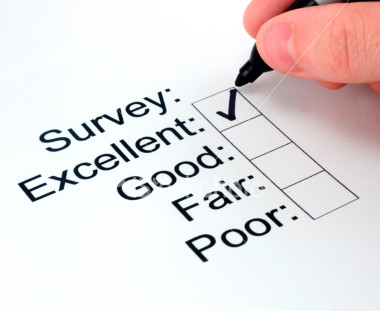 To survey or not to survey, that is the question.
Well, it seems a bit daft even asking whether you should survey your customers every now and then. Surely it's common sense to ask your buyers' opinions about your products, your service and your sales material.
After all, sitting in your ivory tower brain storming about what you think your customers want won't give you a true opinion. The only people that can really answer that question for you are your customers.
A good survey can tell you a lot about your market and the perception of your company within that market.
Here are 10 very good reasons why your marketing and sales strategy would benefit from regular surveying:
Discover what your readers want to see on your web site to make them revisit and buy.
Find out how your products can be improved opening up a whole new market for you.
Get an insight into what products your customers would like to be able to buy in the future.
Use the feedback to improve your customer service.
Discover how you can make your DM and adverts more appealing.
Raise your newsletter readership by discovering what type of articles people want to read.
Improve the design of your web site to encourage visitors to stay there longer.
Identify any non-related products your customers are interested in which could help you expand into different markets in the future.
Discover how to optimise the price of your product.
Discover the life styles of your customers – places they frequent. This could open up new marketing opportunities for you.
You can learn so much from a survey. Yes they can be time consuming, and yes they normally get pushed to the eternal bottom of the 'to do' pile. But I hope this has helped you see the value of the humble survey.
Seize the initiative. Devise and circulate your survey and reap the rewards of enhanced customer relationships.
Sally Ormond is a professional freelance copywriter with extensive experience in the B2B and B2C markets. Her comprehensive range of copywriting services has helped countless companies increase their sales and market visibility whilst saving them time and money.